Learn Self Defense and Get In Amazing Shape! August Specials! Krav Maga Classes
If you're serious about learning self-defense or improving your existing self-defense skills, then check out the Krav Maga classes at FTF® Fitness and Self Defense.
Krav Maga is the official hand-to-hand system for the Israeli Defense Forces and over 200 US Law Enforcement agencies. At FTF® and Fit to Fight®, the desire is to stay true to the "short form" methodology: practical level of proficiency, in a shorter period of time, while truly offering self defense and fighting skills. Therefore, our Krav Maga program is organized into "intensive" levels of instruction.
WORLD-CLASS SELF-DEFENSE WITH AMAZING BENEFITS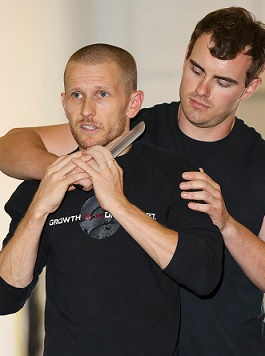 Students in our Krav Maga program will learn all aspects of self-defense and fighting, including pre-emption, clinch, striking, groundfighting, emotional toughness development and more.
Our Krav Maga instructors are some of the best in the world and they're ready to show you everything you need to know about defending yourself in the toughest situations! In no time, you'll master all the trademark punches, kicks and throws that define Krav Maga as the world's best self-defense system!
Our training team has a wealth of experience in Krav Maga as well as many other combat arts and has developed a program that is designed to build students progressively, in an environment that is inviting and enjoyable.
10 REASONS TO DO KRAV MAGA
You want the body and skills of a fighter but not the face to match
It combines the best of boxing, Muay Thai and wrestling
You want a challenging but fun, full body workout
It was designed with YOU in mind
Because treadmills are for hamsters
You want to enhance your other skill sets
Because you want a real fighting & fitness program, that's also safe
Life's a fight
FIT TO FIGHT® KRAV MAGA TRAINING IS THE WORLD'S MOST EFFICIENT SELF-DEFENSE SYSTEM!
Brutal attacks happen all the time, every day, to the most unsuspecting victims. What if you're next? Are you ready to fight back?
To learn more, just take a moment to complete the short form on this page. When you do, we'll give you all the details you need to get started learning the one self-defense program you'll ever need—Krav Maga at FTF® Fitness and Self-Defense.